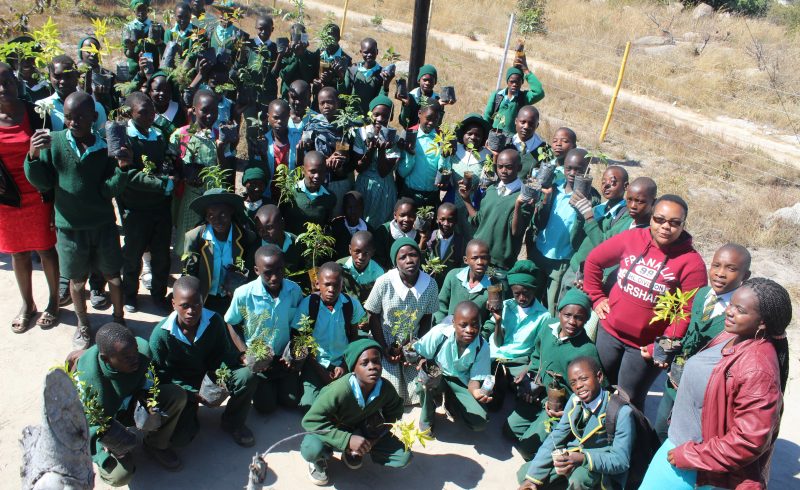 EARTH DAY 2020
Earth Day turns 50 today! As we celebrate earth day we need to focus on stepping up our efforts to:
1) Reduce greenhouse gas emissions via encouraging and supporting communities to use green energy.
2) Strengthen resilience and adaptive capacity to climate-induced impacts, including: climate-related hazards in all countries. Communities need to be prepared for disasters such as floods, droughts and cyclones. As an organisation, Environmental Buddies Zimbabwe we acknowledge that such natural disasters can not be avoided, but we can come up with measures to lessen their impacts. Food insecurity due to crop failure or destruction of crops is what usually follows after a natural disaster and communities go hungry with some even dying. WE believe spreading the risk is what we ought to do. Instead of relying solemnly on crops as a food source, EBZ has been educating communities on how to also maximise forests as a source of food. This is not something new, but we are merely going back to the basics where communities would get their food from indigenous fruit trees (baobab, bird's plum, tsubvu, mourula, sosoti) , small game (birds, mbeva, hares) , edible worms (mopane, termites, ishwa, locusts) and forest vegetable.
3) Integrating climate change measures into national policies, strategies and planning. Policy information ought to be disseminated at a community level. Communities need to be educated on different environmental policies, and their benefits when implemented well.
4) Improving education. Quality education means, education that fits purpose. In times of climate change, we need to have a shift in what we teach the general populace, from young children in kindergarten to adults. Most schools still have curriculums and textbooks that are very silent on climate change issues. Communities are always caught unaware by natural disataters and are not equipped with skills to mitigate impacts. Environmental Buddies Zimbabwe is working with over 20 schools in Matebeleland North, Manicaland, Mashonaland East, and Harare Province in an effort to instil values of environmental stewardship in children so that they grow up to be adults who are environmentally sensitive and custodian of the environment. This is being done via Reforestation efforts at schools and establishment and revival of environmental clubs. By stimulating environmental interest and stewardship in them, we hope they will share what they learn with their respective communities and families.
5) Expand our geographical extend of our climate action message through education and awareness.
6) Improve institutional capacity with respect to climate change mitigation, adaptation, impact reduction and early warning.
7) Fund climate change projects. We urge organisations, corporate and individuals to finance climate change mitigation projects.
We are in this together.
Plant a tree-save life.
Business unusual… this is not a game.