June 16, a day set aside to commemorate the African Child. It is a day which is associated with the struggle for attainment of freedom, peace and justice for all African Children.  Climate justice is one aspect that the African child still struggles to achieve as the need for economic gains over rides the need to protect the natural environment. Most girls in rural communities are faced with the daunting task of walking long distances to look for fire wood and water as nearby forests have been severely deforested and all water sources have either dried up or are poisoned and polluted.
Despite their attainment of political independence the African child has to live with the reality of:
Food insecurity because all food forest resources have been depleted
Lack of clean air to breath as all the Air has been polluted due to industrialisation
Lack of clean water to drink as all rivers have been polluted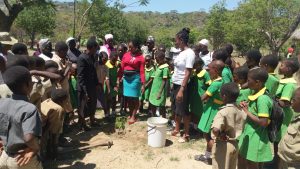 The Board and Management of Environmental Buddies Zimbabwe joins the rest of the continent not only to reinforce the rights to a habitable natural environment for the youths but also a reminder to the youth that they have a responsibility to repair, restore and protect the natural resources.
Justice for the African Child
Climate Justice for the Youths all of over the World.